About this Product
Embroidered toilet paper with a printed card stating "In case you get crap for Christmas " makes for a hilarious white elephant gift exchange, or just throw it in as an extra gag gift. It's sure to bring lots of laugh.... and if times get desperate, they can peel off the few layers of embroidered sheets and literally use the rest of the roll. If you are careful your embroidered sheets can easily be applied to another roll.
We have a variety of snowman faces to choose from, you can choose you favorite it the drop down box which corresponds to the number on the photo.
We have other styles of embroidered toilet paper, so go look for them in our shop, they are sure to give you a laugh.
Meet the Maker
Hi, I'm Sandy and I paint with thread.
Joy in creativity at an early age, led me to work with various media. I've worked with leather goods, making bags and jewelry; and I still work with leather often. I've taken classes on the art of needlework, which consisted of Needlepoint, Cross Stitch and Hand Embroidery. I really enjoy working with any type of fiber to create artful projects, whether it be doing crochet/knitting, or share the love of sewing as did my creative Grandmother. I can remember standing at the end of her sewing counter for hours watching her.... she still inspires me to this day.
In 2013, I began "painting with thread" creating various embroidery items for customers all across the United States. My passion is creating special pieces with intricate details and shading that you would be proud to give as a gift to a loved one. I invite you to take a look at the details, quality, and feel the love that I put into each and every piece.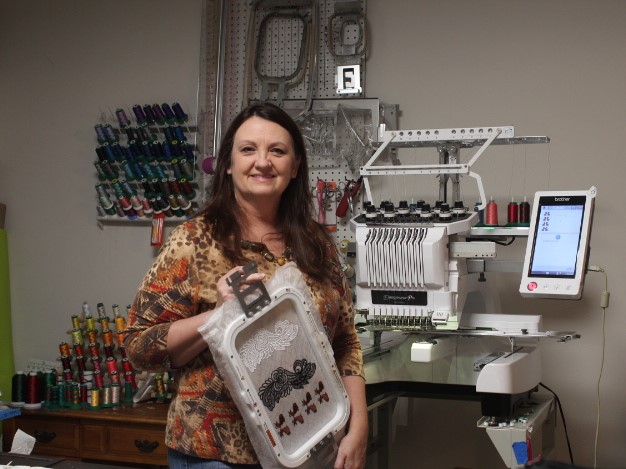 Shop Policies
All items in my store are created or embellished by me personally. Most items are started when you place your order. It can take a few hours to a couple of weeks to create your special piece, depending on what you are ordering. The processing time will be listed in the description of the items you are ordering. This time frame will be added to the time it takes the carrier to get your order to you.
If you are working with a deadline, please reach out to us and we'll will do our best to meet your needs.

Being that our items are handmade, and most times personalized, we do not offer refund or returns. However, if there is an issue with your order, please reach out to us, so that we can work with you.
Please sign in so that we can notify you about a reply