Sandy's Creations & Sew Much More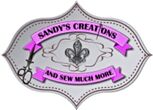 Hi, I'm Sandy and I paint with thread.
Joy in creativity at an early age, led me to work with various media. I've worked with leather goods, making bags and jewelry; and I still work with leather often. I've taken classes on the art of needlework, which consisted of Needlepoint, Cross Stitch and Hand Embroidery. I really enjoy working with any type of fiber to create artful projects, whether it be doing crochet/knitting, or share the love of sewing as did my creative Grandmother. I can remember standing at the end of her sewing counter for hours watching her.... she still inspires me to this day.
In 2013, I began "painting with thread" creating various embroidery items for customers all across the United States. My passion is creating special pieces with intricate details and shading that you would be proud to give as a gift to a loved one. I invite you to take a look at the details, quality, and feel the love that I put into each and every piece.